Hey, lOOKIE!! It's a nice banner for all my [life post]'s!! Yayyy.
I made it soooo, no stealing >:D ((though I'm pretty sure you won't because, well, you're not me so if you are posting life posts as me... wow. You need to re-think your life))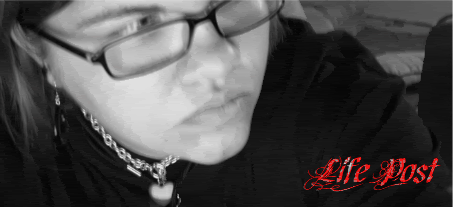 Today I went to Barnes and Nobles to spend my Christ-mas money!! For the past three years, my parents have given my sisters and I each $200 to spend for Christ-mas instead of buying presents theirslefs (theirself's= my parents). This, sadly, is my last year to get to do something so over-the-top kind of amazing. I'm 18 now, and I'll be going to college starting in the fall of 2009 (if all goes as planned). I'm currently looking for a job and am on the Jenny Craig program. Yep, I AM going to be a Jenny Craig success story. Just wait and see =p

Here's what I bought =D
I bought Paper Towns [it's a young adult novel] becuase one of my friends/co-workers (he's a part of I-studios like I am. Which, by the way, I was not featured in the December issue of JA NE like the rest of the I-studios crew because I was *cough*grounded*cough* unable to send in my paragraph in time for the issue) named Domo reccomended it in this part of his 139th v-log. I don't know when I'll read it because I have a lot of books to read that I have from way back in summer 2007 all the way up to this month >.<
I purchased Skinned because Scott Westerfeld (the author behind the Uglies and Midnighters series' of young adult novels) pretty much reccomends it. Man, I'm buying a lot of YA novels due to reccomendations! I bought The Hunger Games yesterday because Stephenie Meyer (author of the Twilight series and The Host) reccomended it!! Ha ha. I'm a sucker for a good YA novel =D I'll be posting reviews of these books when I get the chance... I've been meaning to post my review of the entire Twilight saga... ahhhh.
Dorothy of OZ volumes 3 and 4 were purchased because my sister really wanted them, and I decided to get them. I bought volumes 1 and 2 back in October (I had read volume 1 last year) but have yet to get around to reading volume 2. In fact, I have several volumes of manga to catch up on (like Special A volume 2). I also bought Kitchen Princess 6-8 for my sister to read even though I love this series to death!! I'll for sure have read this series by the end of tommorrow.
The picture labled 'Code Geass vol. 2' is like that because I did not buy a Japanese copy of the manga. Lol. I bought the english translation released by Bandai Ent. I want the Nanali version, but I have yet to see that at a bookstore, so I'll probably read it online. The other Code Geass book is the first one in the light novel series.
I choose to (finally) get volume 1 of The Wallflower because I've wanted it for a while and I could not find the anime at Best Buy!! I also bought volumes 1 and 2 of Kingdom Hearts II because my family does this secret santa thing. I wrote down that I wanted Fruits Basket volume 21 and Kingdom Hearts Chain of Memories volume 1.... so, buying that was not an option >:D I recently finished the first manga series of Kingdom Hearts.
Here's the new banner (to go along with the new 'life post' minibanner):