I've been really impressed these past few years with how Japan has adapted several American concepts (most of which are comics and recently video games) into anime and manga. Since this is my anime of the week feature on Adaptations of American stuffz I will only be focusing on the anime side... and no, not every American anime adaption will be mentioned here! Just the ones I know about and have seen or have seen the original American version >=D
Quite possibly the most famous would have to be the
Animatrix
! The
Animatrix
is one I still have yet to see and this is pretty pathetic considering how much of a
Matrix
fan I am (I've played several of the games and own all the movies thanks to my dad). The
Animatrix
is comprised of 9 episodes on one dvd; it was released back in 2003.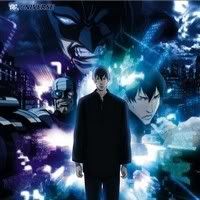 Batman Gotham Knight
This is possibly a favorite of mine, and I own the DVD because of how much I wanted to see it. Ha ha. And a really epic cool thing about this DVD is the guy who did the voice for the original Batman is the voice for Batman in this anime! WIN *thumbs up*
# of Episodes:
6
Rating:
Teen
Released:
2008
Synopsis:
From the producers of Batman Begins and The Dark Knight comes an original animated movie chronicling the establishment and progression of Bruce Wayne into Gotham City's legendary caped crusader through 6 standalone episodes: "Have I Got a Story for You" (the mythos of Batman from the minds of children), "Crossfire" (the initial distrust and the eventual gaining of it from the perspective of the police), "Field Test" (the compassion of Batman, even towards his enemies), "In Darkness Dwells" (tracking down Killer Croc and The Scarecrow to foil his plot of resurgence amongst the villainous of Gotham), "Working Through Pain" (a look back at Bruce's training to manage both the physical and psychological pains he would later endure as Batman), and "Deadshot" (a race against the clock to protect Lt. Gordon from a highly-renowned assassin).


Witchblade


I watched the entire anime series, but wasn't too impressed. The plot was ok and the characters were below average. Frankly, this one failed.


# of Episodes:

24


Rating:

Mature


Synopsis:
In 22nd-Century Japan, Masane Amaha, one of the surviving catastrophe that destroyed Tokyo becomes the latest in an ancient line of women-only warriors to wield the mysterious sentient weapon known only throughout history as "the Witchblade". Protecting her little girl, she will face her worst fear ....
More recently

Halo Legends

was released, but I have yet to see it.
Some other adaptations that are either coming out or are out already are Planet Hulk, an X-men anime, Blade, Wolverine and Iron Man.